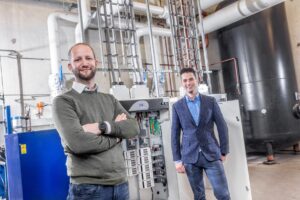 In collaboration with OSH, we can supply the Dutch horticultural sector with E-boilers from the Värmebaronen brand. The Swedish brand has existed for 50 years and has been represented in the Dutch utility industry for years by One Solutions Holland. (OSH)
Because the imbalance on the electricity grid is increasing due to more and more solar and wind energy being produced, the demand for flexibility has increased. BKC sees the E-boiler as a 'perfect sustainable addition', especially in horticulture where large heat buffers and heavy electrical connections are often already present.
The electric boilers are available as single units up to 1400 kW 400V or 1500 kW 690V. Connected in series, even greater capacities can be achieved.